If you aren't familiar with the design and construction industry, you may not know that there is a standard way of proceeding from from a great idea to a finished product. In other words, from project conception to project completion. It is commonly called the "Phases of Design". At Studio Croft, we use these phases as a framework to systematically address each of our projects from beginning to end.
This post will give a brief overview of the five phases of design that we use on our projects, including some of the main tasks associated with each phase. Here we are focusing on more in-depth projects requiring alterations to the home or building. Phases of a less involved project, such as a room refresh or furniture design project will be covered in a later post. Didn't realize that an interior designer could do that much for you? Read our post called The New Definition of Interior Design.
What are the Phases of Interior Design?
The five most common used interior design phases that we implement at Studio Croft are:
Programming

Schematic Design (SD)

Design Development (DD)

Construction Documentation (CD)

Construction Administration (CA)
For residential projects, like single family homes, these five most commonly used phases of interior design are typically a good break down of how and when design related tasks will be accomplished. On larger residential projects and commercial projects, additional phases are often added to address the complexities of design and construction. These additional phases can occur either at the beginning of the project, such as with "Pre Design", in the middle when "Permitting" or "Bidding" is broken out separate from the CA phase, or at the end of the construction should a "Post Construction" phase be required based on client or project needs.
Each phase should have a specified start and and end. All of this kicks off after a client signs the contract. Depending on a project's contracted fee structure, payment could be tied to milestones based on the completion of each project phase.
Every project will have something that comes up unexpectedly, but the key to keeping a project running as smoothly as possible is to have processes and procedures in place. Processes and procedures, like following the step-by-step order of the phases of design, keep projects moving forward in an efficient manner and keep all parties feeling informed about what is coming next.
What is involved with each Phase of Design?
Programming: Asking Questions, Defining Goals
This phase is all about asking questions and defining goals. We want to understand as much information as possible up front about your vision and your desired outcome. We explore how a space functions (or doesn't function), how it needs to function in the future, who will use the space and how their needs impact the design. We spend time discussing a client's needs, wants and desired outcomes.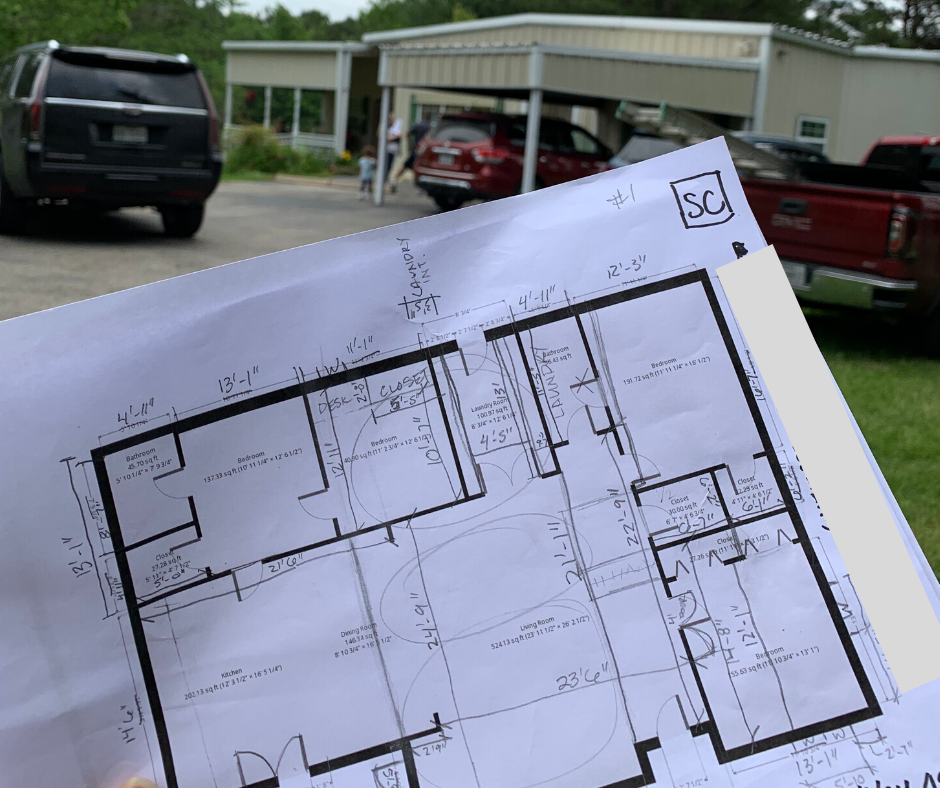 Schematic Design: Refining Goals, Exploring Solutions
In the Schematic Design phase, information gathered during the programming phase is applied to initial design concepts, layouts, and product or material solutions. There is continued dialogue between the client and designer in order to refine the project goals and narrow the path to appropriate solutions.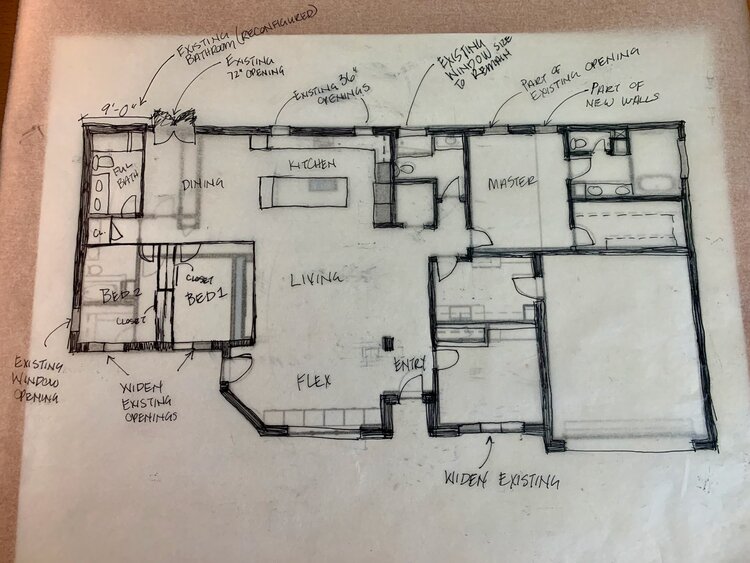 Schematic Design involves the following tasks:
Initial Space Planning diagrams for working though scale and relationships, layout, functionality, circulation paths and adjacencies. Multiple options will be considered against the established program parameters and the best few will be presented to the client for review.

General interior finish recommendations are considered for budgetary purposes (ex. Tile in kitchen, wood flooring throughout, wall paper in the powder bath, etc.)

Fine tuning of budget, scope, vision.

Deliverable: Presentation of rough concept layouts, revisions if necessary.

Sign-off: Client signs off on a single concept to move forward with further development.
Design Development: Refining Solutions, Developing the Details
Design Development is the phase in which a single path forward has been identified, but all of the details still remain to be worked out. It is a time of refining solutions and gathering more information on items specific to the design. Dimensions are still in flux as exact items are being reviewed and recommended by the designer to the client. For example, a kitchen layout will include space for a refrigerator, but the exact model of refrigerator is still being determined and dimensions are being adjusted to fit exact appliance as that information becomes known.
Design Development involves the following tasks:
Further development of floor plan, including presentation of specific interior finish material and fixture recommendations,

Initial kitchen and bath layouts with cabinets drawn.

Initial appliance and equipment selections considered.

Communication between designer and client about specific selections.

Deliverables: Presentation of developed and refined floor plan and specific finish, fixture and equipment selections.

Sign-off: Client signs off on progress and makes any changes known prior to moving forward
Contract Documentation: Documenting Accepted Solutions for Bidding & Construction
By this phase, many decisions have been made and many options explored. This is the time to nail down loose ends and answer as many questions that can be predicted as possible. This is a time of detailed notation on your project. Communicating in words, 2D and 3D plans and images as much information as is necessary for the project to be constructed.
Contract Documentation involves the following tasks:
Creating the documents needed to get bids from contractors from which they will construct your project and any necessary building permits as required.
Finalizing details for floor plans, elevations, cabinet and finish specifications, lighting plans, door and window schedules, etc.

Review and coordination of electrical, plumbing, mechanical details according to project scope.

An architect or engineer may review the plans depending on the complexity of the project and if structural elements require alterations.

Deliverables: Finalized set of contract documents ready for bidding and permitting. Any further changes will be documented as addenda or change requests/ change orders.

Sign-off: Client signs off on documents received.
Contract Administration: Bidding, Permitting, Construction, Procurement, & Installation
This is the phase where all the dust flies and the project really comes to life! Contractors give bids and are hired. Permits are secured if necessary. Items such as light fixtures, plumbing fixtures and furniture are ordered, shipped, received and installed.
Contract Administration involves the following tasks:
Obtaining bids (often broken out as a separate phase on larger projects) and selecting contractors kicks off this phase.

On projects involving permits, the contractor will secure permits after being hired.

Building materials, finishes, plumbing and lighting fixtures, hardware, appliances, window treatments and furniture are ordered.

General Contractor and sub-contractors work on-site.

Designer on-site for walk throughs or during installation of key elements requiring direction such as lighting, furniture and art.
How can your project benefit from a systematized process like the Phases of Design?
The Phases of Design are an industry standard method of a moving a project from conception to completion. Using the Phases of Design for our own interior design renovation and new construction projects helps us to think creatively through the design process, work efficiently through the documentation process and help our clients see the best end results!
If you have been thinking long and hard about making changes to your space, but have been unsure about how to get started or where to go from there, reach out and we can help walk you through the processes and the phases of an interior design project!